Cuisine
A stay at a sakleshpur homestay will surely give tourists a good taste of many local delicacies, as the locals are well known for their love of good food and drink. Sakleshpur cuisine is very much influenced by the town's history and culture.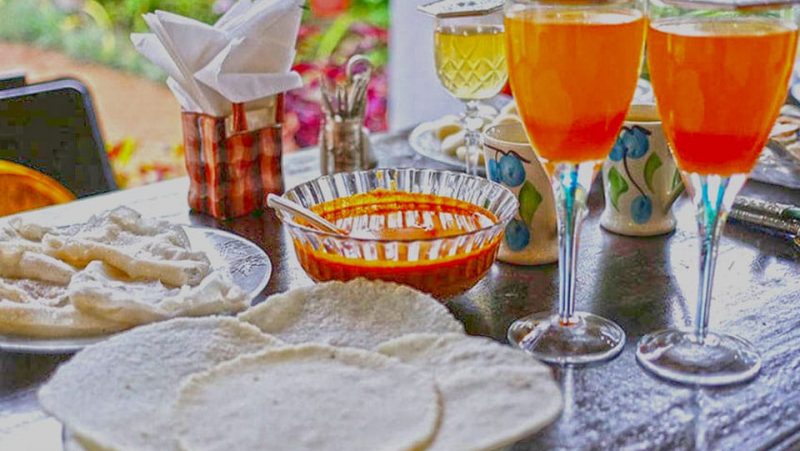 Food is locally sourced and the dishes prepared will very much depend on the ingredients available or the different festivals at any given time of the year. The locals are very hospitable so even guests staying at CoffeeBean Villa Homestay will be welcome to join any family for a meal.

The valleys of Sakleshpur provide plentiful supplies of rice, which is used in much of the cuisine here. The preferred choice of rice in this part of India is Sannakki, which is a fragrant grain the locals are especially fond of in preference to Basmati.

The dishes served at our homestay is comprises of both veg and non-vegetarian, We do prepare our vegetarian dishes in a seperate kitchen and we use seperate cutlery and dishes for serving and consuming food.

The local favourite is Akki roti which is best enjoyed with averekalu curry and added to a breakfast of baimbale (bamboo shoots) . We do serve this dish, so it is well worth giving it a try to see why the locals love it.

The organic vegetables used are from our local farm which is pesticide free .
The Non-Veg dishes comprises of meat, fish, crabs and chicken either roasted, fried or grilled. Meat and chicken is often curried with locally grown cardamom, pepper, bamboo shoots, herbs and condiments. Vegetraian cuisine is also served on request.
Opening Time
Breakfast :
7.30am – 11.00am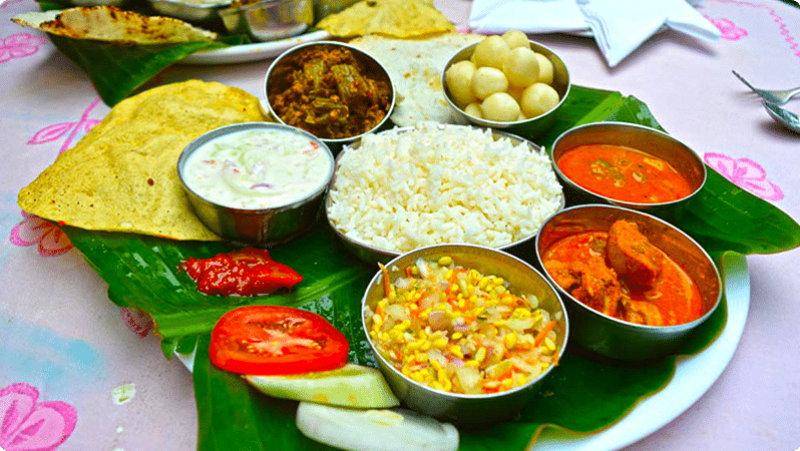 Unlimited Buffet Meals
Breakfast(Any Two):
Puri Bhaji,Masala Dosa,Set Dosa,Upma, Bread Butter, Aloo Paratha,Neer Dosa, Chithranna and GangalDosa.
We provide Akki Rotti, Shavige, Idli, Kadabu generally for both veg and non veg guests.
Lunch:
North and South Indian Buffet Meals Palak Chapathi, Veg Sabji,Daal, Pulav/Ghee Rice, White Rice, Rasam, Curd, Papad,Pickle, Sweet /Dessert.
Cuisine Traditional Malnad Style Veg & Non Veg
Dinner:
Veg and Non Veg Buffet Meals Menthe Chapathi, Akki Rotti, Non Veg Curry, Veg Khurma , Pulav/Ghee Rice, White Rice, Rasam,Curd Papad, Sweet/Dessert.
Snacks(Exclusive from meals):
Non-Vegetarian: Chicken Kebabs, Pepper Chicken, Malnad Chicken, Chinese Chicken, Mutton Kurma, Mutton Keema Balls.
Vegetarian:Chilli Bonda, Hirekai Bonda, Gobi Manchuri, Onion Pakoda, Banana Bonda, Paneer Bonda
*The menu might change based on the sole discretion of the management
Book on a Weekday
'(Monday-Thursday)'
Get 15% Off!